Here are two stories about the Unitarian Universalist Service Committee (UUSC) and how its Guest at Your Table program is raising support and awareness of its work to advance human rights.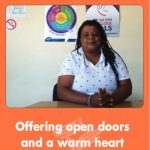 Bulelwa Panda
"Through my journey I've found out that God loves me the way that I am and that being LGBTI isn't a curse but a gift from God."
Bulelwa Panda knows the devastating power of hate.
Hate directed at her from strangers and lifelong neighbors alike. From her family. Even perhaps from her God.
Bulelwa was 18 when she first felt attracted to other women — in South Africa, a country where lesbian, gay, bisexual, and transgender identity remains a deeply taboo subject.
At first she tried to hide her sexuality by dating men, but in 2003, when the deceit became overwhelming, she decided to tell her parents. "They believed it was a sin and tried fixing me with traditional rituals of slaughtering animals."
Although her parents slowly grew to accept her before they passed away, she remains completely estranged from her sister, the sole remaining member of her family.
And when this former Sunday school teacher was first struggling with her sexual identity, she turned to her church — but found no comfort, no solace, no acceptance.
As difficult as those days were, Bulelwa knew they paled in comparison to what other members of the LGBTI community suffered. Beatings. Rapes. Killings.
Which is why, as Bulelwa became more comfortable with her identity during the early years of this century, she also opened up her modest, two-room home to vulnerable and ostracized LGBTI individuals in desperate need of shelter and a kind word.
Today, that same compassionate spirit gives Bulelwa a crucial role in UUSC's new Sexual Orientation and Gender Identity (SOGI) Rights in Africa initiative. Just a few streets over from where she used to welcome people into her small home, Bulelwa now manages the iThemba Lam ("my hope") LGBTI safe house.
Under Bulelwa's guidance, iThemba Lam offers health, legal, and psychosocial counseling to LGBTI individuals from across Africa. Most have been disowned by their families. Many have been beaten or suffered so-called "corrective rapes." All are deeply grateful for the comfort and security they find under Bulelwa's roof. Bulelwa manages iThemba Lam under the auspices of Inclusive and Affirming Ministries (IAM), one of UUSC's grassroots partners in our SOGI Rights in Africa initiative. IAM works across southern Africa to confront religious-based homophobia by building faith communities that welcome LGBTI individuals.
UUSC launched this initiative because sexual minorities in Africa are among the most marginalized communities in the world. Our work is particularly important because much of the rising persecution of LGBTI groups in Africa is driven by right-wing religious extremists in the United States who actively aggravate homophobic sentiment that already exists across most of the continent.
Shifting deep cultural traditions is not a quick project. Victory comes one step at a time, one year at a time, even one generation at a time.
But Bulelwa, who learned early in her life about the devastating power of hate, has great confidence today in the transcendent power of love and acceptance.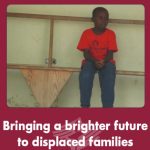 Mathurin Azma
It was because Mathurin Azma wouldn't stop crying that the soldiers used an electric taser on him.
But what else would you expect a 13-year-old boy to do when a military truck screeches to a halt in front of his home and soldiers leap out and race toward him? When they grab him off his front porch and muscle him into the back of the truck?
And when they drive him across the border from the Dominican Republic into Haiti and abandon him, a stranger in a strange land?
That was the afternoon Mathurin became one of los afectados— residents of the Dominican Republic who were born to undocumented Haitian parents and are now being forcibly deported "back" to Haiti in a dragnet as brutal as it is heartless:
"The soldiers beat everyone. They take us anywhere and anyhow. They prevent us from grabbing any item or stuff we have in our house. They force us to leave behind everything, including money, clothes, tools, and foods. In one afternoon, I lost all my friends in the D.R. I don't even know where my family is in Haiti."
That's because Mathurin had spent all but the first two years of his life in the
Dominican Republic. He lived there with his adoptive mother, who spent long, hard hours working as a cleaning lady to earn enough money to take care of Mathurin and pay his school fees. After school, Mathurin would sometimes meet his mother at her workplace to help her finish her work.
But on the day he was abducted by the soldiers, he was home alone. His mother was given no information about what had happened to him. Like most afectados, he had no one waiting for him in Haiti. No home, no known family, no friends. Many can't even speak the language.
And children, many of them younger than Mathurin, are especially vulnerable. They arrive traumatized and hungry but are met with — at best — indifference by the Haitian government.
UUSC rapidly responded to this emerging crisis by partnering with Zanmi Timoun ("Friends of Children"), a grassroots organization in Haiti, to help provide forcibly removed children like Mathurin with everything from hygiene kits and clothes to psychosocial support, recreational activities, and assistance locating possible family members in Haiti.
That's why, when Mathurin was released, "there was already a young lady waiting there. She talked to me and asked about the trip. She guided me to an office where I got water to shower and clean clothes and food. I needed to talk to my mother in the D.R., so they gave me a phone. I called … and let her know that I was deported to Haiti."
A few days later, Zanmi Timoun was able to locate family members in Haiti and eventually reunite Mathurin with them. Although he still misses his adoptive mother in the Dominican Republic, he is regaining hope for his future.
He wants to complete his education, but he hopes above all that if he ever has children they will not have to go through the ordeal he has survived — because "we all are human … like everyone else in the world."