Lots of fun in the PreK – 2nd grade room with art from recycled materials… necklaces, drums, robots, and more! Click to view larger.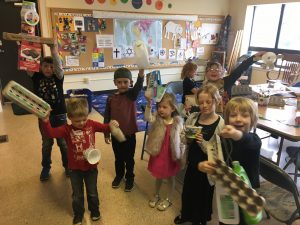 The 7th grade and Up class did some brainstorming and word association for how we might define and describe peace. We did the same for war/conflict as well.
Peace

Talking
Communication
Calm
Being nice
Understanding
Cooperation
Mutualism
Love
Friendship
Community
Nature
Wisdom
Pacifism
Selfless
Balance
Yin/Yang
Restful
Naive
Family
Growth
Sharing
Light
Zen
Buddha
Happy
Slow
Hugs
Safe

Conflict/War

Disagreement
In-Groups and Out-Groups
Fighting
Hate
Violence
Xenophobia
Craziness (not calm)
Danger
Dark
Aggression
Fascism
Selfish
Fear
Imbalance
Discrimination
Segregation
Instability
Lasers (weapons)
Vulnerable
Ares – Dogs of war
Red
Blood
Murder
Death
Greed
Scary
Ignorance
Unknown
Human-made disaster
Destruction
Hunger/famine
Poverty
Pestilence
1.
Peace is a panda
Zen like a Buddha smiling
As a pacifist
2.
Communication
Love and understanding reign
People feel their place
3.
When ignorance hurts
It gives us false motivation
Injustice and death
Group-written Sonnet
Childlike naivete, openness and hugs
I was unknowing but smiling, sharing
Loving the world like an optimistic pug
Moon-faced and so wide-eyed, spoiled like a king
Now I leave the warm embrace of my safe home
I go forth with hope in myself and all
I am searching for the good as I roam
Continuing on, I know I won't fall
But the world can't harbor a safe bubble
No longer will I believe my own lie
One day all that will be left is rubble
Know now that in the end we all will cry<
Humanity can bless and damn without design
Only with clear intent will there be a lifeline