SUMMER PLANS
Our summer program is going to be a series of "Kits for Kids" which will include a variety of activities and projects. There will be kites, wind chimes, nails & wood, bug jars & magnifying glasses, and more. Kid Kits will either be delivered to your doorstep or available for pick-up from my house (you can choose). Additionally, we hope to be able to have occasional small gatherings throughout the summer. Please let me know if you have an idea for a Kid Kit or want something specific to be included.
THANKS
Many thanks to EVERYONE for contributing their time and talent to the 2019-2020 RE program. It ended up a rather peculiar year but overall I'd say it was very successful.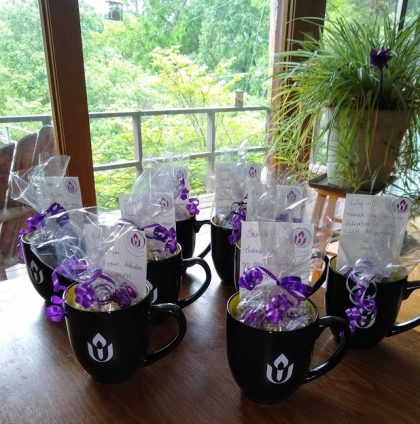 Regular school year teachers were: Molly McGaughey (7th grade and up), Matt Sayre (3rd – 6th grade), Christie Launius and Susan Rensing (K-2nd grade), and Lily Colburn in the nursery. They graciously led classes almost every Sunday (at least until mid-March when everything got turned upside down). During the school year we also held Our Whole Lives (OWL) classes for Kindergarten through 1st grade students with the help of Sarah Bridges, Marisa Larson, and Jessica Sievers.
We didn't get to thank our teachers during an in-person worship service, but a few treats were delivered to their doorsteps instead.
Summer World Traveler Tour Guides for 2019: Susan Adamchak (Chile); Elke Lorenz (China); Katie Kingery-Page and Lindsay Smith (printmaking); Taryn Cipra Eukaryotic Cells); Sandy Nelson (Snack Chip ChampionChip); Cathy Hedge (our imagination); Larry Weaver, Dan Swenson, and Molly McGaughey (Pillsbury Crossing where we got to canoe and kayak); Clara and Mark Mayfield (Mt. Whitney); Jen Thomsen (inside your body); and Lily Colburn (The Gambia).
Special shout outs go to Dan & Kathy Swenson and Kathleen Oldfather for helping with holiday crafting in December and to Carolyn Ferguson for lending a needed hand in the OWL class as well as the 6th grade class.
The enthusiasm and participation of everyone is much appreciated.
Hope to see you soon!
Sandy Nelson
Office Hours – Tuesday & Thursday 3:30-4:30 p.m. Via Zoom: https://us04web.zoom.us/j/4849854310?pwd=TDhOZ1RRbGpOU1psZG9PSVEzcnNadz09
or call (669) 900-6833 and use meeting ID# 484 985 4310.
Book lending continues…
I am blessed to live in a house with many books. If you're tired of digital media and the library is still not open, well, I've got some to lend. View the list at: https://bit.ly/2S89QBL