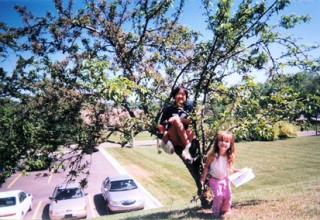 Our youth education program is dedicated to giving children a chance to explore religion and spirituality with open minds, to enact social justice aims with helping hands, and to form close connections with their peers and teachers through warm hearts.  Classes are inviting, exploratory, and diverse.
We offer organized Sunday morning religious education experiences and regular social activities for newborns through 8th graders. We are also establishing Middle and High School youth groups. To learn more about the youth classes and activities at UUFM, please look to the information below.
Class Meeting Times and Places

---
Youth Education classes meet during the adult service. The nursery is open at 10:30 and remains open until the service ends. All other classes begin after the children have been dismissed from the adult service (this is usually after the Children's Conversation) and conclude when the adult service is over (around 12:00 pm).
The classes meet in the fellowship building. Each age group has its own space in which to meet. Please see the doors for age group markers as they may change per year depending on class size.
Our Classes and Lead Teachers
---
Nursery (with Katherine Colburn): In the nursery we combine structured time with free play. Each week, class begins with an introductory welcome song. Then the children listen to a story and do an activity related to the theme of the week. Themes range from colors and numbers to holidays and special celebrations. Afterwards, they sing, dance, and tell nursery rhymes. The class concludes with free play. Of course, with babies and toddlers, structured time is not always completely structured, and free play is always allowed!
Katherine is a life-long Unitarian Universalist and current junior at Manhattan High School. She plays soccer, works at the City Park pool in the summer, and babysits. Katherine has been working with our nursery children since 2010. She is warm, friendly, kind, and inviting. Our children love her.
Pre-K (with Sandy Nelson): The Pre-K curriculum is on a two-year rotation. One year the children follow the UUA curriculum, Chalice Children, while the other year they follow the congruent UUA curriculum, Celebrating Me and My World. Each lesson begins with "lighting a chalice" (the children put felt chalices marked with their names on the bulletin board) and sharing joys and concerns. Then they read a book related to the theme of the day, discuss the key points, and do an activity. The goal of these classes is to introduce the children to more formal lessons while revealing the basic principles and values of Unitarian Universalism.
Sandy is a life-long Unitarian. She has been a member of the Manhattan Fellowship since 1979 and has worked with our children in varying degrees since then. Sandy loves our pre-K kids. Her motto, taken from her mother who is an early childhood educator: "It's the right thing to have a plan. If you stick to the plan, something is wrong."
K-2nd Grade (with Molly McGaughey): The K-2nd Grade curriculum is on a three-year rotation. Each year the students write a covenant, learn the seven Unitarian Universalist principles, and do two social actions projects. The focus of the year rotates. One year they study, "What is religion? What is Unitarian Universalism?" The next year they study the Judeo-Christian heritage of Unitarian Universalism through Bible stories. The following year they study Unitarian Universalism's relation to world religions (Native American, Islam, Hinduism, and Buddhism). The goals of these classes are to inspire exploration, questioning, social action, and appreciation for our selves and others.
Molly has been teaching our UU youth for four years. She started with the pre-K kids and now works with our K-2 children. Her favorite lessons: big bang randomness, Rama and Sita from Hinduism, and the life of Buddha. Her motto: "Knowledge is power!"
3rd-5th Grades (with Larry Weaver): The 3rd-5th Grade curriculum is also on a three-year rotation.  Like the K-2ndGrade curriculum, each year the children write a covenant, learn about the seven UU principles, and do two social action projects. Their focus areas build off of the K-2nd curriculum. The first year they revisit "What is religion? What is Unitarian Universalism?" by studying our religion's roots and major tenents. The second year, they do close analysis of a select few Bible stories and/or hymns. The third year, they compare and contrast stories from various religions (for example, David and Goliath versus The Battle of Humbaba). The goals of these classes are to further their understanding of religion and to help them form their own sense of spirituality.
Larry has been teaching religious education classes for 40 years. He has taught all age groups and a variety of curricula, but currently teaches our 3rd-6th grade group. Larry loves to tell stories and have the children act, draw, or sing about them. His motto: "It's not only the content that's really important, but taking the kids seriously – listening to their ideas and concerns, however tangential to the lesson."
6th-8th Grades: The Middle School curriculum is founded in the Unitarian Universalist Coming of Age program. The focus of the first year is on their emerging individual identities and their collective roles as Unitarian Universalists in their communities. The next year they follow the UUA curriculum, Neighboring Faiths, and visit numerous places of worship in Manhattan, comparing those experiences with their own at UUFM. The third year they connect the intellectual with the spiritual by reflecting on their spiritual path and its milestones and ultimately writing a meditation. The goal of these classes is for the students to explore their physical, emotional, intellectual, and spiritual development.
Social Action
---
Every December, the preschoolers, K-2nd, and 3rd-5th graders participate in the Guest at Your Table program, raising money for social justice aims around the world. In May, the children in the K-2nd and 3rd-5th grade classrooms choose a cause inspired by the seven UU principles to enact their social justice aims. Some examples are: National Wildlife Federation, Water Conservation, and Ethical Eating. They spend three weeks planning and carrying out an activity to help their chosen cause and then present their work to the fellowship.
Social Activities 
---
In addition to lessons and social justice, our youth like to have fun together. We provide many opportunities for this.
Parents' Night Out:  On the first Friday of every month, we give our parents a night off and the children a chance to bond. From 6:30-9:30 pm, our youth do art projects, play games, eat dessert, and watch movies together.
Family Fun Nights:  Once a month, we plan an activity for the whole family. Past events include camping out, pizza and fun at the Splash Park, bowling at KSU's bowling alley, an ice cream social, a Thanksgiving potluck, and a Christmas cookie swap.
Third Thursdays:  Families gather on the third Thursday of every month to have dinner and play games.