Contact UUFM Social Action Coordinator Judy Nickelson at judynickelson @ gmail.com, to learn about all social justice efforts at the Fellowship.
Racial Justice Team

The UUFM Racial Justice Team meets on Zoom, on Sunday, September 6, at 4 pm.  We will be joined by Teresa Parks, from the local Black Lives Matters movement.
Log in at https://zoom.us/j/93071448824?pwd=anpnaEE4SU9mU2N5NjJLZDFLcGQwQT09
The meeting ID is 930 7144 8824
The password is zeandale.  
Learn more from Jonalu Johnstone at revjonalu@uufm.net, or Judy Nickelson at judynickelson@gmail.com.
Helping Hands
In August, Helping Hands contributions will be collected for the Flint Hills Community Clinic, providing basic health care for families and individuals in our area who are without health care coverage.  Learn more at www.flinthillscommunityclinic.org/.
As we gather Sunday mornings from our homes, with no basket passing by, our Helping Hands recipients still count on this annual contribution from UUFM.  You can donate online at uufm.net/donate/.
MHKTogether
MHKTogether.org provides eligible families with gift cards for groceries to be purchased at either Dillons or HyVee.  To receive this assistance go to the website at MHKTogether.org and complete a simple on-line application.  The cards are mailed to the approved applicants.  Households may receive from $50 to $150 depending on the size of the household.  These funds have been made available by donations from your friends and neighbors in Manhattan.
UUFM Explores a Blessing Box at Wonder Workshop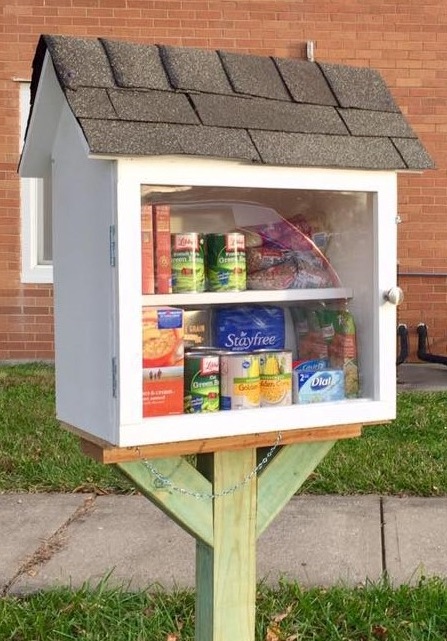 "Blessing Boxes for Manhattan/Riley County is an initiative of the Food and Farm Council of Riley Co.  BBFM is an outdoor food pantry that serves those in need 24/7.  If you need a blessing, donations are available and if you are blessed, leave a blessing."  — from https://www.facebook.com/blessingboxesformanhattan/.
Judy Nickelson was intrigued when she observed Blessing Boxes being installed in Manhattan.  She had supported and helped build Blessing Boxes in Topeka before moving here.  She thought that UUFM might install a Blessing Box at Wonder Workshop in memory of Richard Pitts.  After hearing positive comments from others in the Fellowship, she brought it to the attention of the Social Action Team.  Cindy Pitts was contacted and is happy to have a Blessing Box at Wonder Workshop. 
Doug Walter, who had been faithfully stocking another Blessing Box, agreed to transfer his loyalty to our effort.  Dick Beeman will build the box, and Doug Walter will oversee installation of the box and organize the effort to keep it stocked.  Costs for building and installation will be covered by the Social Action budget. 
The Blessing Box is for people to take what they need and leave what they can.  The box is stocked with non-perishable food items and life-essential items such as feminine hygiene products, toothpaste and soap.
Stay tuned for updates on the UUFM/Wonder Workshop Blessing Box as it is built, installed and opened for blessings.   Learn more from Judy Nickelson at judynickelson@gmail.com.