Our Location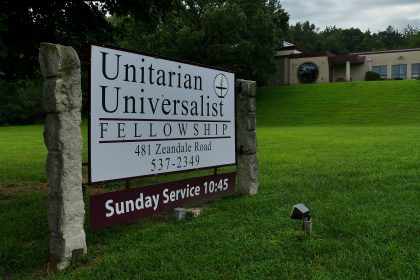 Limited Building Use Approved
This is a tumultuous time we find ourselves in, with new norms being created and just as quickly, being changed. While we will continue to hold services virtually, at its heart, UUFM is a community, and we want to make sure our community still has the benefits of our space when required. As a result, the Board approved limited use of the UUFM building for groups no larger than 10 people for a maximum time block of 90 minutes.
All scheduling must be completed with office administrator Susan Turner (office@uufm.net) prior to building use, and multiple groups cannot use UUFM simultaneously … each group that reserves the building will be expected to practice social distancing, wipe down surfaces after use, and take on any risk associated with building use. Anyone with a history of travel outside of the state less than 14 days prior, or that currently has any symptoms of illness will not be allowed in. This compromise is intended to make sure we all feel like we still have a spiritual home.
UUFM is located on a beautiful site overlooking the Kansas River (also known as the Kaw) valley as it curves east to join the Blue River, just a little out of the center of Manhattan, KS. Our building is on top of a small hill that is wonderful for sledding, and which makes for a very pleasant view from our sanctuary.
A path winds up the hill behind our building, past a prayer circle, and up to a meditation space adjacent to the memorial garden that contains the ashes of some of our departed members. A special nature zone was created years ago in the space below our building to be a place for the animals around us (and sometimes a few children) to have a cozy hiding place.
Our facilities are available for rental. Contact us if you are interested.
Directions
We are located at 481 Zeandale Road. From Manhattan, head south on KS Highway 177 toward I-70, then turn left (east) on Zeandale Road. We are on the right about 1/2 mile down Zeandale Road.