Finally. A new year.
January's theme is "imagination" and I hope everyone is ready to use theirs. Request a packet of at-home worship and religious education materials if you haven't yet received yours.
Our Saturday gatherings are taking a break as winter weather seems to have settled in. Watch for updates as spring approaches.
Did you miss the exciting Jingle Bells video for the Christmas Eve service? Here's a link to watch it: https://drive.google.com/file/d/1j1LMLXyMHwcxXnSFkH1OHMhzN_AGnpp0/view?usp=sharing
Here's a peek at some of the singers…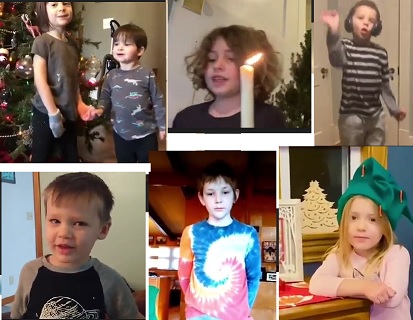 Happy New Year,
Sandy Nelson
Office Hours – Tuesday & Thursday 3:30-4:30 p.m. Call me at 785.341.0135 to set up a video visit.