Social Action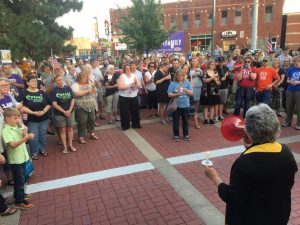 UU's believe that our values and principles come alive through active engagement with making the world a better place. We work individually and as a congregation to make a difference. To get involved with any of our projects, or learn more, contact Rev Jonalu Johnstone at revjonalu@uufm.net.
Some projects work directly to make a difference for specific individuals — feeding, clothing, or otherwise supporting them — while others strive to change the world in significant ways — to end oppression based on race, gender, sexual orientation or gender identity, or to stop gun violence
Among our projects are:
Racial Justice Team
Because racial injustice is the rule, we need to be proactive to fight racism in all its manifestations — personal and structural. Our Racial Justice Team grew out of Beloved Conversations, a UU program to help members see and understand the pervasive influence of race and racism in our society. We are reaching out into the larger community to identify resources and make plans to create change in ourselves, in Manhattan and beyond.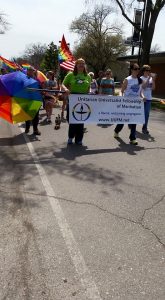 Equal Rights and Protection for LGBTQ Citizens of Manhattan
UUFM actively promotes the equality of LGBTQ people. Our advocacy, along with other congregations and organizations, led to the creation of a local anti-discrimination ordinance to protect LGBTQ people in Manhattan. Read the letter submitted to Manhattan City Commissioners by Rev Jonalu Johnstone and nine other area clergy. We host the meetings of Little Apple Pride, the group responsible for Pride activities in Manhattan.
Helping Hands Sunday
By donating our collection on the second Sunday of each month, UUFM provides support to a range of local non-profit agencies and associations, such as the Flint Hills Community Clinic and Big Brothers/Big Sisters. Learn more from Helping Hands coordinator Dixie Moreau at dixie.moreau53 @ att.net
Happy Kitchen
This cooperative venture between UUFM, St. Paul's Episcopal Church, and Seven Dolors Catholic Church provides free breakfasts one day a week to anyone in the community, including low income and homeless persons. Three teams of UUFM volunteers prepare and serve meals at St. Paul's on Fridays from 6:30 to 9:00 am.
Happy Kitchen is a busy place. We have seen an increase in the numbers of folks served and the total number of meals. New volunteers are welcome and people who can substitute occasionally are needed. For more information contact Tom Phillips at twp1@ksu.edu
We join with other congregations who provide meals in Common Table, an organization working to make sure that people in Manhattan always have access to good meals.
GI Rights
The Flint Hills GI Rights Hotline provides information and support to military personnel and their families about issues such as hardship or medical discharges, AWOL, conscientious objection, and more.
UUFM Social Action, together with Manhattan Alliance for Peace and Justice (MAPJ) and other local organizations, established the hotline in 2008. UUFM provided the space and support needed for the initial workshop. Since then UUFM Social Action has provided financial assistance for ongoing counselor training and helps provide lay counselors to answer calls to the hotline.
For more information, click here. For assistance call 1-877-477-4487 Coordinator: Anne Cowan.
Souper Bowl Sunday
UUFM joins with other community churches and organizations in collecting soup on Souper Bowl Sunday. This food is donated to the Flint Hills Bread Basket. The UUFM RE children help with this project by decorating a collection box and then sorting the donations.
Fair Trade Products
Coffee, cocoa, tea, chocolate bars and dried fruit products are available for purchase each Sunday. Sales help members of small farm cooperatives earn a living wage and help support Unitarian Universalist service projects worldwide. Coordinator: Anne Cowan.
Resources
To find books, websites and podcasts on a variety of social actions topics, please visit our Social Action Resources page. And if you have suggested additions, please contact Marisa Larson.