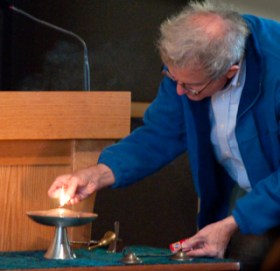 What is a Sunday morning like?
Our members are varied in their theologies and philosophies. Likewise, our services vary in focus and format: sometimes lay-led, sometimes led by our minister, sometimes pretty secular and sometimes deeply spiritual. Services might involve a sermon or talk, several readings, and sometimes a skit or play. There is always some music and singing. There is usually opportunity for some discussion during the service, and always plenty of discussion over coffee afterwards. Everyone is welcome to stay and chat after the main service.
Sunday services try to engage all aspects of human existence, intellectual, artistic, emotional, or spiritual. We often discuss social justice issues in our communities as well as topics more focused on the inner life. Our services usually begin with the lighting of the Flaming Chalice (our symbol of faith).
We don't require adherence to any creed. We don't pray together to a higher power (though some of us do as individuals). We sing as a way of coming together.
What should I wear?
Whatever you feel comfortable wearing. Jeans or business casual are common.
What about children?
Children and families are very welcome. We have an energetic religious education program that gives children an opportunity to explore religion/spirituality with open minds, to enact social justice aims with helping hands, and to form close connections with their peers and teachers through warm hearts. Classes are inviting, exploratory, and diverse. Children over 3 usually join in the main service for the first 15 minutes and then are sung out to their respective classes (pre-K, K-2nd, 3rd-6th). Children of all ages are welcome to stay if they are more comfortable with the adults, and parents are welcome to go with their children to their classrooms. There is a nursery for children 3 and under. Also, the service can be heard over loudspeakers in the hallway for people who feel they need to step out of the main service area for whatever reason.
For more information about children and youth at UUFM, see our Religious Education pages.
Hearing impaired:
You will notice that several of our members are hearing impaired and use our headphones to participate in the service. Please request a headphone if it will help you.