Each Saturday from 4:00 p.m. – 6:00 p.m. we gather at the K-State Intramural Fields (corner of Denison and Kimball). The fields provide a lovely opportunity for kids to run off energy, fly kites, or explore for bugs while maintaining good distance. Extremely good distance!
Bring your own lawn chair and a cool beverage, and enjoy the company of others while staying safe.
In July we distributed bug jars with a magnifying glass for everyone. Tom Phillips took time to identify our bugs while flying a kite at the same time!
And one Saturday we walked down to the K-State Gardens with Tom and others to look for interesting bugs. Did you know there's a Butterfly Garden there? Here's a bit of info from their website:
"The Butterfly Garden is located on the south east side of the Historic Conservatory. It is home to hundreds of native butterflies which gather during the hot, calm days of summer. Many assorted plants in the garden provide the needed food for larval and adult butterflies.

"Local Master Gardeners are currently re-designing and planting the Butterfly Garden area to create a better habitat and accommodate the full life-cycle of native butterfly species. After completion, The Gardens will be considered a butterfly Waystation. Learn more about developing a Monarch Waystation."
Pick up a packet of milkweed seeds from Sandy next Saturday so you can start your own Monarch Waystation.
Dick Beeman shared a video he made of the giant cecropia silk moth caterpillars he is rearing. They are the largest caterpillars in North America. Dick says that they turn a forest of apple branches into a pile of bare sticks overnight! These are some very hungry caterpillars:
https://drive.google.com/file/d/16dsADvmhoiRaqJDtbJq2l7n_OgeyQFuY/view?usp=sharing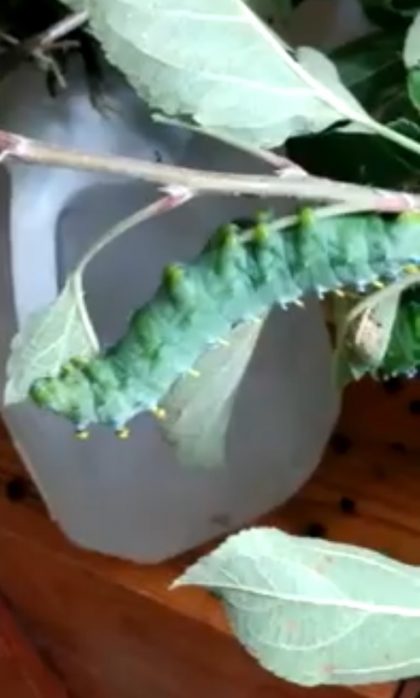 In August we'll have more fun things to distribute to everyone.
I hope you'll join us!
Sandy Nelson
Office Hours – Tuesday & Thursday 3:30-4:30 p.m. Call me at 785.341.0135 to set up a video visit.

Book (and some video) lending continues…
I am blessed to live in a house with many books. If you're tired of digital media and the library is still not easily accessible, I've got some to lend. View the list at: https://bit.ly/2S89QBL